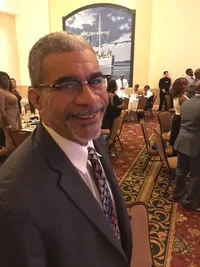 I am a professional Life and Business Coach who specializes in personal growth, leadership, business, addiction recovery and Christian ministry coaching. I maintain a private practice in St. Louis, MO.

I worked for 18 years at AT&T as a Sales Coach, Associate Director of Sales, Leadership and Performance Development Coach and retired in March of 2017 as a Lead Training Manager.
At AT&T my responsibilty was to coach executives, managers and sales/ technical representatives to better performance in sales, productivity and customer service.
After retiring from AT&T I accepted my calling to plant and Pastor CityReach Church St. Louis along with my wife Pastor Kacie Starr Long where we have a young and thriving Church.
I have 3 grown children; Lisa, Alfred Jr., and Tamar and two wonderful grandchildren; Tyler and Kennedi.
I love Community Service and mentor in elementary schools throughout my community. My 501c3 organization "Jacob's Ladder Ministries" conducts Church services in correctional facilities in Missouri and we have started a re-entry referral and mentoring program called "Breaking The Cycle". My organization also provides yearly scholarships to disadvantaged High School graduates wishing to attend college.
I authored a book "Grasping At The Wind" which is an autobiographical depiction of my struggles as a young man growing up in the streets of Southside Chicago. It is also a manual that teaches about the roots of all types of addictions along with biblical solutions to stay free of them. It is available on this website under the Buy Books CD's tab.
I am a collaborative, solution-focused Life Coach. Through this approach, I provide support and practical feedback to help clients effectively address personal and business life challenges. I also integrate coaching techniques and helpful assignments to offer a highly-personalized program tailored to you. With compassion and understanding, I work with you to help build on your strengths and attain the personal and business growth you are committed to achieving.
"Counsel in the heart of a man is like deep water, but a man of understanding will draw it out" - Proverbs 20:5

Education:
I hold a Bachelors of Ministry in Biblical Counseling

Certifications, Additional Training & Awards:
Ordained Minister, Certified Coach, Certified Assembly of God Advanced Coach, Certified Corporate Instructor, Certified Associate in Project Management (CAPM), Missouri Associate Alcohol Drug Counselor II (MAADC II), Medication Assisted Recovery Specialist (MARS)

Professional Activities and Memberships:
Member of the Greater North County Chamber of Commerce (GNCCC), Board positions with Emerson YMCA, LifeQuest Christian Counseling and The Ethics Project